Free Personal Injury Consultation: (217) 337-1400 Tap to Call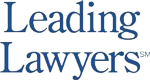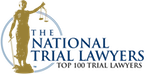 What Are the Most Common Injuries After a Car Accident in Illinois?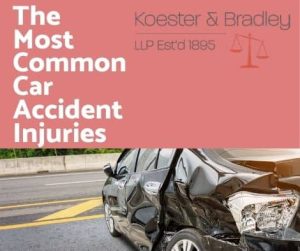 Car accidents happen. It is just a fact of life. In fact according to the New York Times, American have a 1 in 103 chance of suffering a death from a cart accident. Still, car crashes and accidents usually do not result in death.
When you're injured in a vehicle accident in Central Illinois or in Champaign-Urbana, and your injuries are severe, you should work with a seasoned injury attorney to build an insurance claim for healing and the money you may have lost from missed work or medical bills and expenses.
What Can I Get Paid for After a Champaign Car Accident?
The Illinois Civil Laws are meant to compensate you for your
injuries and restore your life back to as close to "normal" as possible. This means that money damages are generally the only way to recover for your injuries. This is a difficult reality since it means that accident and injury attorney is left putting dollar values on physical injuries and pain.
What Are the Most Common Auto Accident Injuries in Illinois?
Below are the most typical sorts of auto crash and accident injuries in Illinois based on the decades of experience from Koester & Bradley representing the victims of negligent driving in Champaign-Urbana and Central Illinois–and some simple steps to avoid them.
Whiplash. is the common name for muscular tissue, tendon and also ligament injuries that can happen in an automobile mishap. These injuries usually manifest themselves in neck pain and headache. When you're in an automobile wreck, your body often moves suddenly; faster than you would certainly ever before move on your own. That trauma can stress muscular tissues and also other so-called "soft tissue" without breaking bones. Whiplash can be extremely painful, and also it can require time to recover. It is a total misconception that whiplash and other "soft tissue" injuries are minor and not capable of achieving a monetary recovery. This is a myth, and it is perpetuated by the insurance industry in order to increase profits.
Scrapes as well as Cuts. You may have scrapes as well as cuts as a result of a car or truck accident. Again, these injuries are often major and result in permanent disfigurement, pain, or discomfort. You may get cuts from debris after impact, or you might obtain struck by loose projectiles in the automobile like your phone. Either way, scratches, as well as cuts can be uncomfortable as well as introduce a danger for infections as well as other problems. This is why the Accident Attorney team at Koester & Bradley recommend to place your purse and phone in a position where it will not cause injury after an accident.
Head Injuries. Traumatic brain injuries and various other closed head injuries can trigger immediate injuries and problems that last much into the future. If not treated appropriately, traumatic brain injuries can trigger long-term issues with brain function as well as headaches, sleeping problems, loss of cognitive ability, and changes in mood. It may be difficult to detect a brain injury, as well as you might need a deliberate therapy strategy to prevent complications. Head injuries are very serious and proper medical attention as soon as possible after the car accident is vital.
Broken Ribs. Ribs are vulnerable and very fragile as compared to the other bones in the human body. The ribs also serve a vital purpose in protecting the heart and lungs. Even a slight or light impact can trigger ribs to break. You could suffer bruised ribs in a car crash when you're pressed forwards, backward or laterally as a result of the influence of the collision. Broken ribs can be painful and also need extensive durations of time to fully heal. Additionally, while medical attention to broken ribs after a vehicle accident is crucial, often times there is not a set treatment plan for rib fractures other than letting time heal the fragile bones.
Broken Bones. Broken arms, legs, hips as well as even shoulders are common in a Champaign-Urbana automobile collision or accident. This is because car wrecks can cause abnormal quantities of force on your body. When it's more than your bones can hold up against, you can experience an uncomfortable break. Broken bones are common in all sorts of collisions consisting of rear-end and side-impact mishaps.
Internal Bleeding. While it's common to suffer cuts in a mishap, it's also not surprising to suffer from interior blood loss. Internal bleeding can be harmful particularly if it's not dealt with rapidly after the collision. A common example is when blood accumulates under the skull and puts pressure on the brain. It's important to seek clinical interest right away for anything yet the most small accidents. If there's any type of possibility that you may have suffered internal bleeding, it's crucial to find crucial care to make certain that you do not have serious injuries.
Herniated Disc. Much like you can damage a bone in a car crash, you can also struggle with a herniated disc. A herniated disc happens when several vertebrae in your spine either rupture or shift out of place. A herniated disc can cause discomfort and nerve-related injuries. While surgical intervention is common to address a herniated disc from an auto or vehicle accident, many times victims of car crashes in Illinois are left to bear the impacts of herniated discs for the rest of their lives.
Knee Injury. The abrupt effect of an accident can cause your knees to strike the dashboard. That can trigger pain to your ligaments and also your kneecap. You may need dental braces, props or surgery to reconstruct your knee as well as fix for damage. Knees are made complex, and also knee injuries can be unpleasant. Knee injuries in an auto accident are specifically frustrating because they can trigger problem walking.
Post-Traumatic Stress Disorder. Not all automobile mishap injuries are physical. You could deal with psychological and also psychological injuries due to a car crash. You could have trauma, and also things that utilized to be regular may come to be uneasy and also even impossible. You might have the ability to recover for your mental health and wellness therapy as well as emotional suffering after a car or truck mishap, and our legal team sees PTSD situations arise primarily after tricking accidents.
If you've experienced injuries in an automobile or vehicle wreck in Champaign-Urbana or across Central Illinois, the most effective way to obtain the payment you need to make a complete recuperation is by working with a skilled and local attorney on your accident claim. If your accident was on Interstate 57 in Champaign, of Interstate 72 in Monticello, you need an attorney local to the site of the crash. An out of town lawyer not familiar with the locality can often do more harm than good.
Client Reviews
Get in Touch
Fill out the contact form or call us at
(217) 337-1400
to schedule your free consultation.
Free Personal Injury Consultation

Contact Us Any Time

No Fee Unless You Recover on Personal Injury Cases