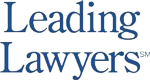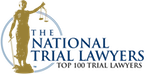 Syngenta Corn Litigation
The Deadline to Opt Out of the Syngenta Class Action is April 1, 2017: Learn the Hard Facts without the Hard Sell
The class action that was certified in Kansas city recently is what is known as an "opt-out" class action which means that individual farmers are required to actually take action themselves to be able to pursue their claim against Syngenta individually. This is a unique situation as many other class actions require individuals to elect to participate. We believe that this method is not appropriate to address the unique and individual nature of farming in America. Each farmer runs their operation a little differently and consequently, lumping each farmer into a large group only serves to benefit the class action attorneys who are paid no matter what. At Koester & Bradley we are in the business of representing individual farmers and working to maximize the recovery that is right and fair for each individual. To achieve this we have teamed with who we believer are the best agricultural trial lawyers in the country. There is no doubt that Syngenta's actions in prematurely releasing Viptera lowered corn prices, and there is no doubt that the best way to achieve recovery is on an individual basis.
Important Syngenta Corn Litigation Update, Time is Short to Become an Individual Plaintiff
Koester & Bradley currently represents thousands of farmers across the country in conjunction with litigation leadership for their harms and losses associated with Syngenta's premature release of its genetically modified corn seed, MIR 162. As counsel in the Illinois litigation against Syngenta, Koester & Bradley is representing all of its farmers individually.

Attorneys must not allow their farming clients to become part of the class action recently certified by Judge Lungstrum in Kansas on September 26, 2016. If part of the class action, farmers will be unable to prosecute their own individual claims and pursue damages unique to them. Rather, the class action will treat all farmers the same and will not provide full and just compensation.

Farmers must sign up immediately with a local Illinois Attorney if they wish to avoid becoming part of a class action. The sign-up process takes less than five minutes and we would be happy to walk you through the process with a LIVE PERSON day or night during harvest. In order to pursue a claim, a farmer only needs to have grown and sold corn from November 2013 to the present. Don't hesitate to tell your farming clients to ACT NOW!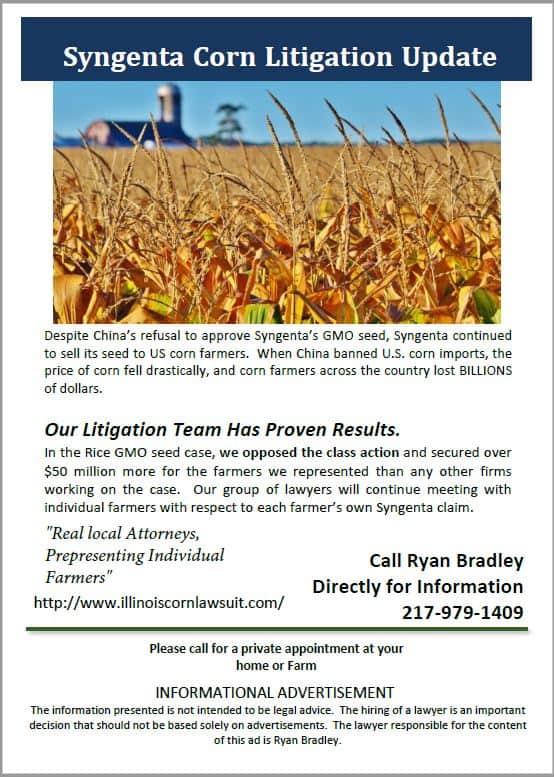 The ban on U.S. corn exports to China has virtually affected all U.S. corn farmers resulting in over $2 billion dollars in economic losses. Even after China has Approved the corn, damages to Central Illinois Farmers Continue to Mount.
Syngenta's decision in 2010 to bring the Viptera trait to market has damaged the U.S corn market. By selling its unapproved genetic variant of corn, MIR 162, which contaminated the U.S. corn supply and prevented corn shipments from being exported to markets such as China, Syngenta has harmed the corn market as a whole. Despite not having approval in China, Syngenta marketed the genetically modified corn seed as Agrisure Viptera® or Agrisure Duracade™ to U.S. corn farmers.

It is important to understand that any Illinois corn farmer who has suffered economic losses because of the devaluation of the corn market due to Syngenta may be entitled to the financial recovery of their losses–whether or not they actually planted or experienced Agrosire Viptera® contamination.

If you are an Illinois corn farmer and have suffered economically as a result of Syngenta, the attorneys at Koester & Bradley, LLP are ready to help you aggressively pursue compensation for your financial losses. We have teamed with some of the Nation's premiere agricultural litigators to focus representation on the farmers of Central Illinois. This is not a class action. We represent individual clients, remembering the StarLink all too well. Be sure to check back for up-to-date news and visit our Syngenta Corn Litigation Center.

To file a claim for your losses or learn more about how we are representing other corn farmers across Illinois, contact Ryan Bradley today for a free consultation.
Client Reviews
Get in Touch
Fill out the contact form or call us at
(217) 337-1400
to schedule your free consultation.
Free Personal Injury Consultation

Contact Us Any Time

No Fee Unless You Recover on Personal Injury Cases