Free Personal Injury Consultation: (217) 337-1400 Tap to Call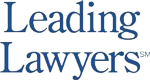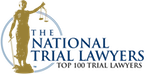 How Deadly is Your State this Holiday Season?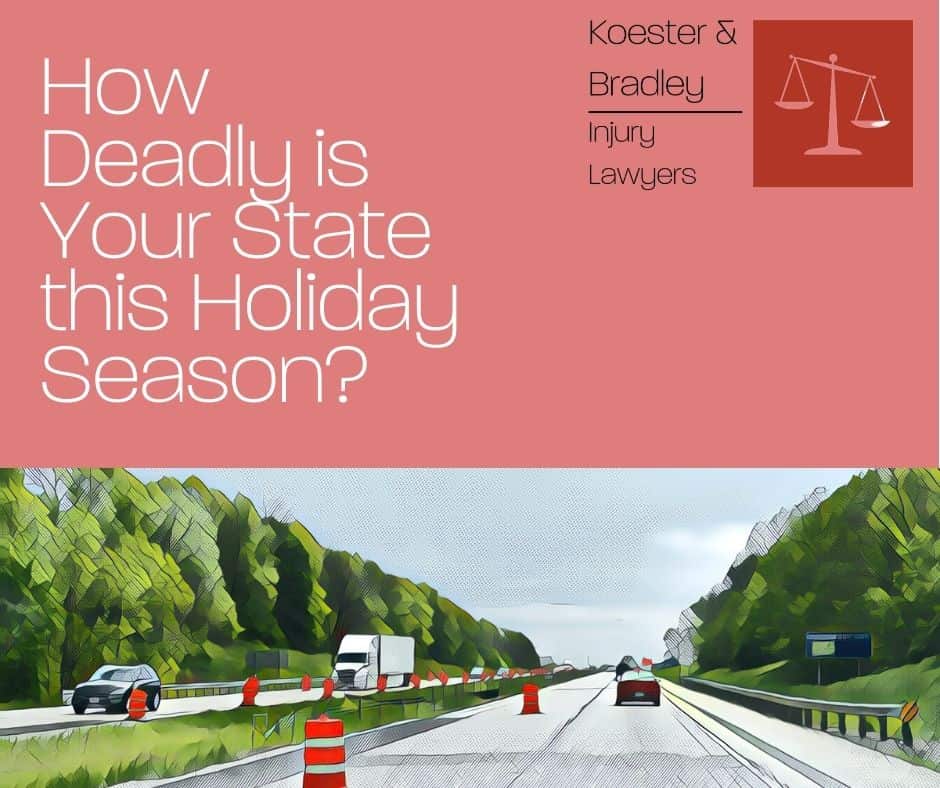 The Time of Day, Speed, and Alcohol and Drug Use Factor Significantly in to Thanksgiving and Holiday Car Accidents
About this time every year Americans are inundated with news stories and articles about holiday travel and the dangers associated with a sharp increase in travelers during November and December. However, there is usually very little data to substantiate the recommendations because it is all based on common sense.
Fortunately, the United States Department of Transportation and in particular the National Highway Transportation Safety Administration compiles a great deal of data about holiday travel and safety concerns. Our editorial team at Koester & Bradley has shifted through the data for you and arrived at the top three Thanksgiving travel and unique tips to stay safe this holiday season well also having fun.
What Is the Most Dangerous State for Holiday Travel?
The data is clear, Mississippi is the most dangerous state to travel in during the holiday season.  Together with South Dakota, Louisiana, and New Mexico, Mississippi shares the dubious distinction of having the highest number of motor vehicle fatality rates for the Thanksgiving and Christmas holiday season than any other state.  With respect to all of these states the key data is that each has a fatality rate higher than two for 100,000 residents.  These numbers are impacted by the volume of traffic on the State's roads as well as the state's normal population.
Most Dangerous States for Holiday Travel

Mississippi
South Dakota
Louisiana
New Mexico
Population and Traffic Volume Matters
This way of measuring obviously skews in the favor of states with higher populations, however it is important to understand that if you are traveling from Illinois, which has a higher population than South Dakota for instance, that one must be wary of motor vehicle accidents in sparsely populated states where serious injuries or fatalities are more prevalent.The reason why fatality rates, and rates of serious injury are higher in states with less of a population is due to the fact that emergency responding personnel along with highway maintenance crews are not as prevalent as in states with significant populations. Ask yourself this question, how many police cars do you see driving the New Jersey turnpike or the Dan Ryan expressway in Chicago versus long stretches of open highway in South Dakota?
Are You Used to Where You Travel?
One of the primary reasons for dangerous accidents and deaths during the holiday season is individuals driving in locations throughout the United States where they are not familiar. Despite the fact that you may be able to manage the intense traffic jams of Atlanta or Chicago, it does not necessarily carry over that you can handle the wide expansive highways of New Mexico or Montana. Furthermore, in more remote locations, motorists who are unfamiliar with the localities in lack of services often fall victim to unpreparedness and, and some situations, even death. It is important to understand that when traveling long distances, particularly by car or motor vehicle, over the holidays that the conditions of the roads and the environment in which you are driving play a remarkably important factor in whether or not you get to your destination alive.
Oftentimes this preparation comes down to simply planning ahead a few days and checking the weather forecast and whether or not there will be service stations or available roadside assistance where you are traveling.
What Other States Are Dangerous?
It is pretty clear that the number of serious accidents in fatalities increase as the population density decreases in most states. This is why Mississippi, South Dakota, Louisiana, and New Mexico lead the list for a fatality rates. These are states that are all within driving distance from metropolitan areas, however the conditions in these states can change dramatically given the weather forecast of the temperature.
Take for example Illinois, which which is ranked number 32 on the department of transportation's list. Nearly every exit on major Illinois interstate highways has a gas station or service center where one can bind assistance in the case of an automobile emergency. Contrast this with South Dakota, the number two most dangerous state to travel and over the holidays, where one can go hundreds of miles without having any reliable service center or roadside assistance.
There are only about 850 gas stations in South Dakota compared with over 3,875 in Illinois according to the most recent available data.
This disparity in population is a primary reason for states with lower populations to have higher fatalities and serious automobile accidents. Additionally, statistics comes into play since with a larger population density a state can have more fatalities despite the fact that the percentage with respect to population is lower.
Yes, We Are Still Dealing With COVID-19 and It Will Impact Travel
Nobody likes to talk about the Covid-19 pandemic. At Koester &  Bradley we can certainly understand that. However, it is important to understand that many individuals will be traveling in 2021 for the first time in a few years.  Further, many of these people may not even be good driver to begin with. This means that there is the potential for drivers who have yet to take long trips or who have not taken long trips in multiple years getting on the road in November and December of 2021.
Driving is a habit that yields efficiency given the number of times that one practices the habit. For metropolitan individuals not used to driving cars, or simply taking Ubers, this can be a major factor.
The Same Old Safety Tips Still Apply for Holiday Travel
First, Don't drink and drive. This may seem obvious, but researchers have found that blood alcohol levels higher than 0.08 significantly increase the likelihood of fatalities in serious injuries over Thanksgiving in the holidays. To put it on context, car accidents ending in death increased over 22% over the Thanksgiving holidays in 26% over the Christmas holidays as compared to non-holiday seasons. We all know that holiday gatherings are fun and a good chance to let off steam, however don't take it too far or you could end up in a ditch off the side of the road.
Second, Try to drive during the daytime if possible. It's not surprising that night time driving is related to nearly 30% increases in vehicle fatalities and serious injuries during the holiday season. Oftentimes individuals who live far away from their family set out to drive the entire 12-hour journey in one day. This is a recipe for disaster, in one which can leave you in a more precarious situation if you are a metropolitan driver operating your car anymore rural setting. Imagine having a flat tire or breakdown in the middle of the night in South Dakota versus off of an exit of the Dan Ryan expressway?
Third, Get some Sleep.  Sleep factors into driving safety.  In fact, according to the United States CDC, a lack of sleep can make you less alert which can then impact judgment reaction time and coordination will operating a motor vehicle the CDC calls this cognitive impairment, but in reality, it could be having too much of a good time on Thursday and trying to drive home early Friday morning. Try to avoid drowsy driving to make the holidays is safe as possible.
If You Are Injured on the Road, Hire a Local Lawyer
As always, the personal injury and auto accident team at Koester & Bradley are ready to help.  We can represent anyone injured on the roads or otherwise during the holiday season.  Please call our office for a free case evaluation if appropriate.
Client Reviews
Get in Touch
Fill out the contact form or call us at
(217) 337-1400
to schedule your free consultation.
Free Personal Injury Consultation

Contact Us Any Time

No Fee Unless You Recover on Personal Injury Cases