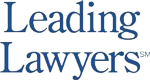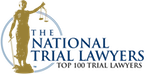 Covid-19

Learn the Basics About the Coronavirus Vaccine
According to the United States Centers for Disease Control and the local Champaign County Department of Public Health, high participation in community-wide vaccinations is crucial to successfully eradicating the Coronavirus. In fact, to reach so-called "Herd Immunity" status, the Cleveland Clinic reports that 50-80 percent of the population would need to be vaccinated.
For many different reasons, there is uncertainty and resistance as to the administration of this vaccine. This purpose of this website is not to judge these positions, but to offer credible scientific, medical, and public health so that members of our community can make informed decisions using credible, fact based, information.
Moderna and Pfizer Vaccines are Currently Available in Champaign County
The Vaccines currently approved for distribution are Moderna and Pfizer-BioNTech. They are a 2 dose regime with doses administered approximately one month apart. If your first dose is Moderna, you second dose must also be Moderna. If your first dose is Pfizer, your second dose must also be Pfizer. You DO NOT have to receive your second dose at the same location where you received your 1st dose of the vaccine. You will be provided information about scheduling your second dose when you receive your first dose. You will not have full immunity until AFTER your second dose of the vaccine AND YOU CAN STILL SPREAD THE VIRUS even if you are vaccinated so it is necessary to continue to wear a mask.
MODERNA= 28 days between vaccines
PFIZER= 21 days between vaccines
There are additional vaccines that are still in the trial phase for testing that will likely be available in the up and coming months, which will greatly increase the supply.
THE VACCINE IS FREE OF CHARGE: Depending on your insurance situation, your private insurance, Medicare or Medicaid, may be billed an administration or facilities fee. Individual patients who are uninsured ARE NOT RESPONSIBLE FOR PAYING THIS FEE. There is a special fund set up by the Federal HRSA for COVID-19 Claims reimbursement. If a healthcare facility sends you a bill for a COVID-19 Vaccine or Test, contact their billing department immediately and do not pay the bill.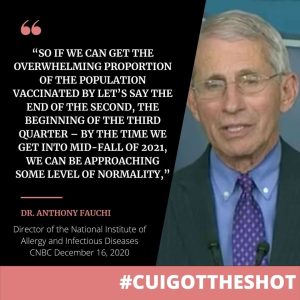 What is the Vaccination Schedule in Champaign County?
Champaign Urbana Public Health and Carle Clinic are offering the vaccine free of charge to CHAMPAIGN COUNTY RESIDENTS ONLY.
To register for a vaccination at the iHotel and Conference Center located at 1900 S. First Street, Champaign, please use one of the following methods:
Scheduling is available by calling (217) 239-7877.
Entrance for the clinic will be through the east wing of the iHotel and Conference Center.
If you do not feel well the day of your appointment, please call to reschedule.
Carle Healthcare Covid Vaccination Distribution Sites
To register for a vaccination at the former Dress Barn store in the Kohl's Plaza located at 1901 N. Market Street, Champaign, please use one of the following methods:
The fastest way to register is online through MyCarle.
Log in or sign up for MyCarle.
Scheduling is also available by calling (217) 902-6100 but you may experience a longer wait time.
Carle is currently charging a $175 administration fee billed to insurance. If you do not have insurance, the Federal Government has established a process for medical facilities to submit "facility charge." You should never be charged for the Covid-19 vaccine.
If you do not feel well the day of your appointment, please call to reschedule.
When Will it be My Turn to Get the Vaccine?
The CDC has established groups and subgroups for vaccine priority. C-UPHD has a very helpful chart on where you fall on the priority list for the vaccine. https://www.c-uphd.org/covid-vaccinations.html. CONTINUE TO CHECK BACK FREQUETNLY FOR UPDATES ON GROUPS ABLE TO GET VACCINATED.
Currently, C-UPHD is vaccinating:
Healthcare Workers
Persons 75+
Persons 65+ with health conditions that make them more at risk for COVID
Persons 65+
First Responders
Inmates and Correctional Officers
Like an airplane, If you did sign up when your group was first available, call CUPHD at (217) 239-7877 for a make-up appointment.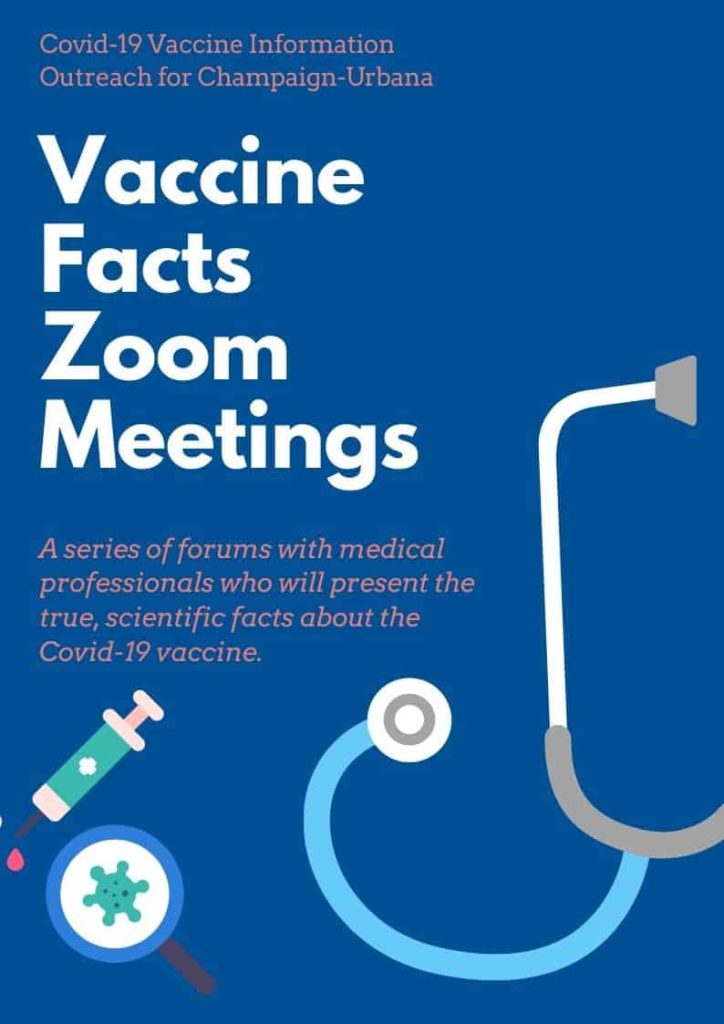 Organizing Information Sessions to Promote Vaccine Education
Residents of Champaign County now have the opportunity to receive the Covid-19 vaccine based on their age and risk category. In order to provide information about the vaccine to community, we will be hosting a series of Zoom meetings to allow medical professional in the Central Illinois community to answer questions and provide general information about the vaccine, its safety, and the rollout process.
Check back for Dates and Times and viewing information:
Questions about the Vaccine?
We are looking for community input and questions you may have about taking the vaccine. Please submit any questions to cucovidfaq@gmail.com.
Check back for specific dates and times. Submissions will be shared anonymously with health experts and at panel discussions.
What is Herd Immunity and Why does it Matter?
When most of a population is immune to an infectious disease, this provides indirect protection—or herd immunity (also called herd protection)—to those who are not immune to the disease.
For example, if 80% of a population is immune to a virus, four out of every five people who encounter someone with the disease won't get sick (and won't spread the disease any further). In this way, the spread of infectious diseases is kept under control. Depending how contagious an infection is, usually 50% to 90% of a population needs immunity to achieve herd immunity. The virus will not be able to jump from person to person and spread. A short video explanation of Herd Immunity shared by Derrius Carter, MPH of C-UPHD:
Measles, mumps, polio, and chickenpox are examples of infectious diseases that were once very common but are now rare in the U.S. because vaccines helped to establish herd immunity.
For infections without a vaccine, even if many adults have developed immunity because of prior infection, the disease can still circulate among children and can still infect those with weakened immune systems. This was seen for many of the aforementioned diseases before vaccines were developed.
Other viruses (like the flu) mutate over time, so antibodies from a previous infection provide protection for only a short period of time. For the flu, this is less than a year. If SARS-CoV-2, the virus that causes COVID-19, is like other coronaviruses that currently infect humans, we can expect that people who get infected will be immune for months to years, but probably not their entire lives.
Without the vaccine, it will be virtually impossible to achieve herd immunity.
Source: Dr. Brandon Webb, an infections disease physician at Intermountain Medical Center explains why here. https://intermountainhealthcare.org/blogs/topics/covid-19/2020/11/debunking-the-myth-of-non-vaccine-herd-immunity-in-covid-19/
Central Illinois Residents can be Assured the Covid Vaccine is Safe
The Covid-19 vaccine produced by both Pfizer and Moderna is safe and has been thoroughly tested and studied. Even though the Coronavirus vaccine was produced in record time, intense clinical trials were still performed.
The U.S. vaccine safety system ensures that all vaccines are as safe as possible. Safety is a top priority while federal partners work to make this and other COVID-19 vaccines available.

United States Center for Disease Control
Additionally, all local public health departments, as well as the Federal Government, are closely monitoring the safety of the vaccine as it is being rolled out across the country. This expanded safety monitoring is a joint effort including:
The US Food and Drug Administration
Local Health Departments
Private Insurance Companies
Healthcare providers such as hospitals and clinics.
Infodemic: How do I Know which Information to Trust?
The term infodemic has been coined to outline the perils of misinformation phenomena during the management of disease outbreaks, since it could even speed up the epidemic process by influencing and fragmenting social response.
Facebook, Twitter, Instagram, TikTock, you-tube, etc. are all full of information about the pandemic, some of which is credible and some is not. Science is continuing to change, and we are learning new things each day about COVID 19. It is important that you have credible information when assessing your COVID responses both in vaccination and protection. A little DATA acrostic poem to help:
Domain: Is the information from a reputable site? A scientific or medical journal? .org and .edu sites tend to have more credible information and valid peer reviewed studies.
Author: Who wrote the article? Was it a doctor or scientist? Was the study funded by a company? Is it in an online media source? Does it have political bias? Is the person well respected in their field of study? A quick google search on the author can be very helpful.
Timeframe: When was the information published? With COVID, we have learned so much about transmission over the past year, that more recent data will have up to date information that might even conflict with earlier recommendations. That is OK! We started the pandemic with a lot of hypothesis about how COVID is transmitted and we have learned a lot about prevention.
Anonymity: If the information comes from an anonymous source or a "friend of my cousin," it is likely that it is not a credible source.
Finally, Fact Check before sharing information. The following are helpful fact checking websites:
Helpful Videos on the Covid-19 Vaccine
Explanation of Immunity and How the Virus and Vaccine Work
Vaccine Myths Debunked
Racial History of Medical Treatment and Vaccine Hesitancy
Learn about why a History Of Medical Testing Has Left Many African Americans Hesitant About The New COVID-19 Vaccine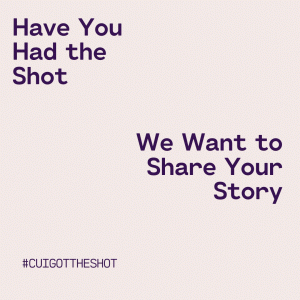 Champaign County Vaccine Stories
We want the Champaign-Urbana community to know that confidence in the safety and efficacy of the Covi-19 vaccine is high in our community. This is why we are posting a series of testimonials here and across social media in order to show Champaign County that the vaccine is available and safe.
To submit your vaccine testimonial, email cuigottheshot@gmail.com.
---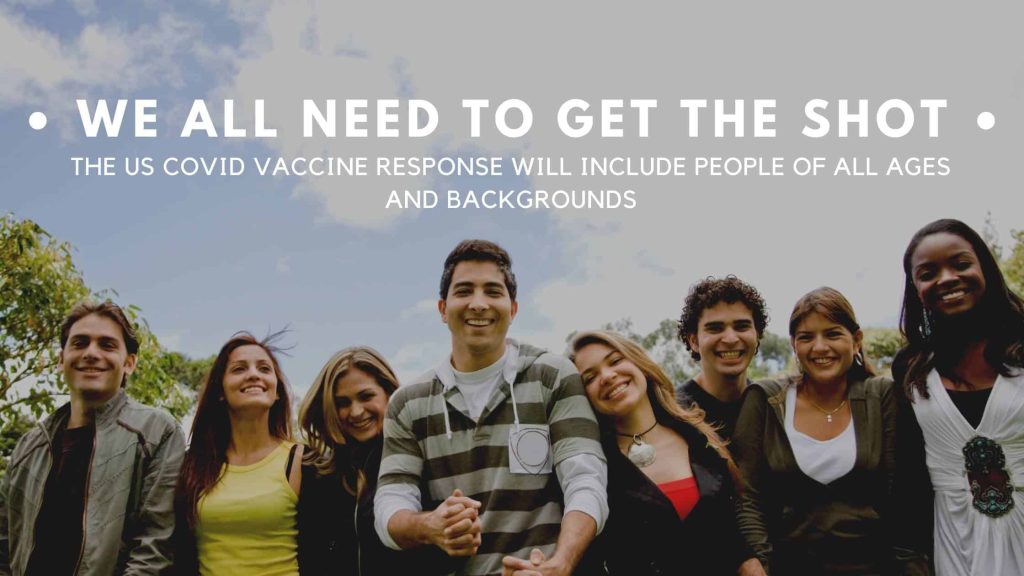 Disclaimer: Nothing on this page should be construed as medical advice in any way. This page is meant for informational purposes only. Consult your doctor or healthcare professionals with any medical questions.
Client Reviews
Get in Touch
Fill out the contact form or call us at
(217) 337-1400
to schedule your free consultation.
Free Personal Injury Consultation

Contact Us Any Time

No Fee Unless You Recover on Personal Injury Cases